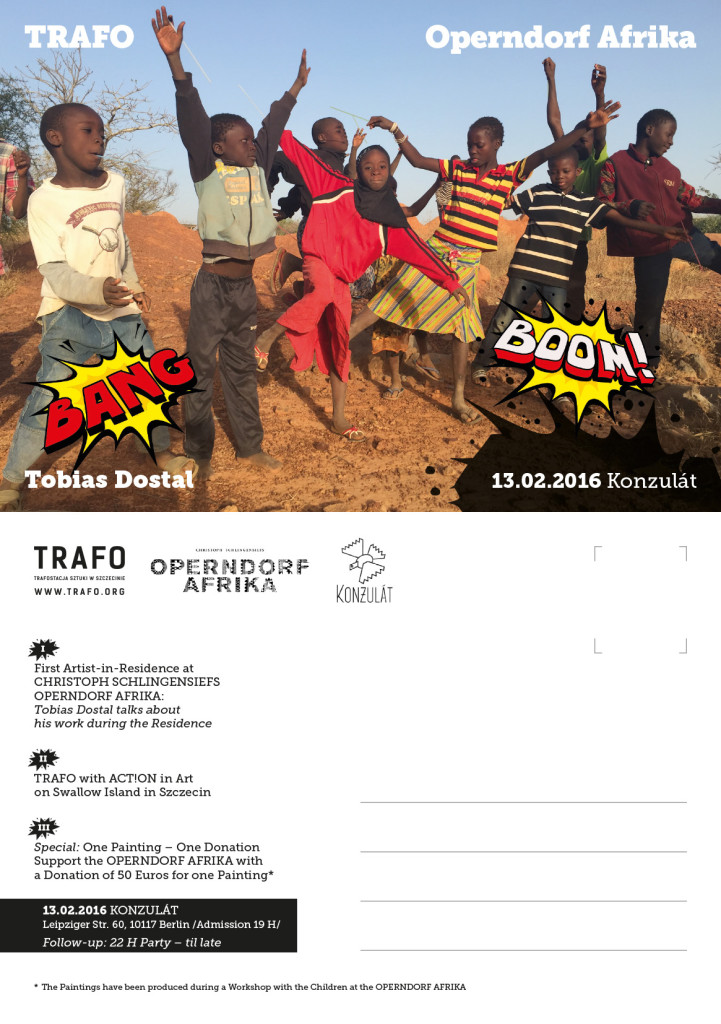 First Artist-in-Residence at CHRISTOPH SCHLINGENSIEFS OPERNDORF AFRIKA – Works of TOBIAS DOSTAL & TRAFO with ACT!ON in Art project, "Swallow Island" – Szczecin at KONZULÁT
We invite you to the presentation of the first Artist-in-Residence at the Opera Village Africa with Aino Laberenz and Artist Tobias Dostal.
Mikolaj Sekutowicz will host a talk on TRAFO's collaboration with the ACT!ON in Art project on Swallow Island in Szczecin.
With Screenings of Christoph Schlingensief Movies – all Night long!
| Vernissage 19H | Party 22H – LATE |
13.02. KONZULÁT – Leipziger Str. 60, 10117 Berlin – Eingang Jerusalemerstr.
• Special: One Painting – One Donation: Support the OPERNDORF AFRIKA with a Donation of 50 Euros for one Painting
There will be a display of the new ADLER AFRIKA series DEUTSCHLANDBILDER, results of a workshop organized by Martin Kwade during his stay in Burkina Faso and inspired by Philip Kojo Metz. ADLER AFRIKA (EAGLE AFRICA) http://www.philipmetz.de/www.philipmetz.de/Adler_Afrika.html is an ongoing project that examines traces of Germany on the African continent. In DEUTSCHLANDBILDER the school children of the African Opera Village were asked to draw their imaginations and phantasies of Germany. The Drawings are numbered, signed and registered and are part of the ongoing project. They will be sold at the venue and the money will be given to to the Opera Village to support the education of the children in the school.